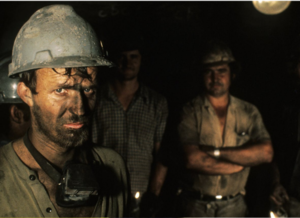 Although Connecticut has little or no history of coal mining, black lung is a frightening disease for anyone who has worked in a coal mine. This devastating occupational disease had appeared to be dying out by the end of the 20th century. At that time, there were only 31 cases of the most severe form of the disease reported to researchers and new cases of black lung had reached a historical low number. However, as the 21st century progresses, it is clear that far from being eliminated, black lung is perhaps a greater threat to workers' health than ever before.
A cluster of 416 cases of complicated black lung, the most severe disease form, was reported at three clinics between 2013 and 2017. The director of those clinics contacted epidemiologists from the National Institute for Occupational Safety and Health after seeing the dangerous spike in occupational disease cases. Their findings reflect the largest cluster of black lung cases ever studied.
Black lung is caused when coal miners inhale dust particles kicked out from veins of coal in the mine. These microscopic particles slip into the lungs of a miner, where they set off an immune response from the body. Because the particles are mineral in nature, they are not eliminated, sparking a more intense immune response that gradually damages the lungs. Over time, affected workers lose their ability to bring in air, and the disease can only be treated with a lung transplant.
Concerns about the growth of black lung are reflected across the country as thousands of new cases continue to be uncovered. Black lung is just one type of occupational disease that might entitle a victim to receive workers' compensation benefits. People who have been affected by toxic exposure on the job might want to meet with an attorney to discuss their situation.