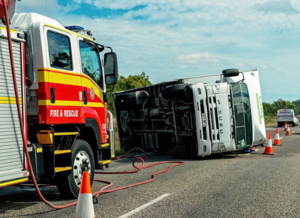 Connecticut motorists may be interested to learn that the Federal Motor Carrier Safety Administration has recently published new data about the number of fatal truck accidents. After analyzing nationwide wrecks, the agency reported a 3 percent increase in deadly truck accidents in 2016. The top causes of fatal crashes for both commercial trucks and passenger vehicles were speeding and distracted driving.
The FMCSA report 2016 Large Truck and Bus Crash Facts totaled large truck deadly wrecks at 4,074 in 2015 and at 4,213 in 2016. These accidents translated into 4,094 deaths in 2015 and 4,317 deaths in 2016. Injuries also went up during the same period. The report attributed approximately 145,000 injuries to truck accidents in 2016. This was a sharp rise compared to the 116,000 truck-accident-related injuries recorded in 2015.
Rural areas and interstate highways served as the scene of the majority of these accidents. Time of day mattered as well, with over one-third of crashes happening between 6 p.m. and 6 a.m. The rise in fatal truck accidents appears especially troubling because the federal government had recorded significant decreases in these deaths between 2005 and 2009. Since 2009, deaths involving commercial vehicles have jumped by 28 percent.
A person killed in a truck accident might leave surviving family members with significant expenses from medical bills, funeral costs and lost income. If negligence like truck driver fatigue, speeding or poor truck maintenance caused the crash, then a surviving family member might try to recover damages through a wrongful death claim. An attorney familiar with litigating truck accidents could provide support by gathering evidence and filing court papers. Legal counsel could represent the family during negotiations with an insurance company or present the case at trial.