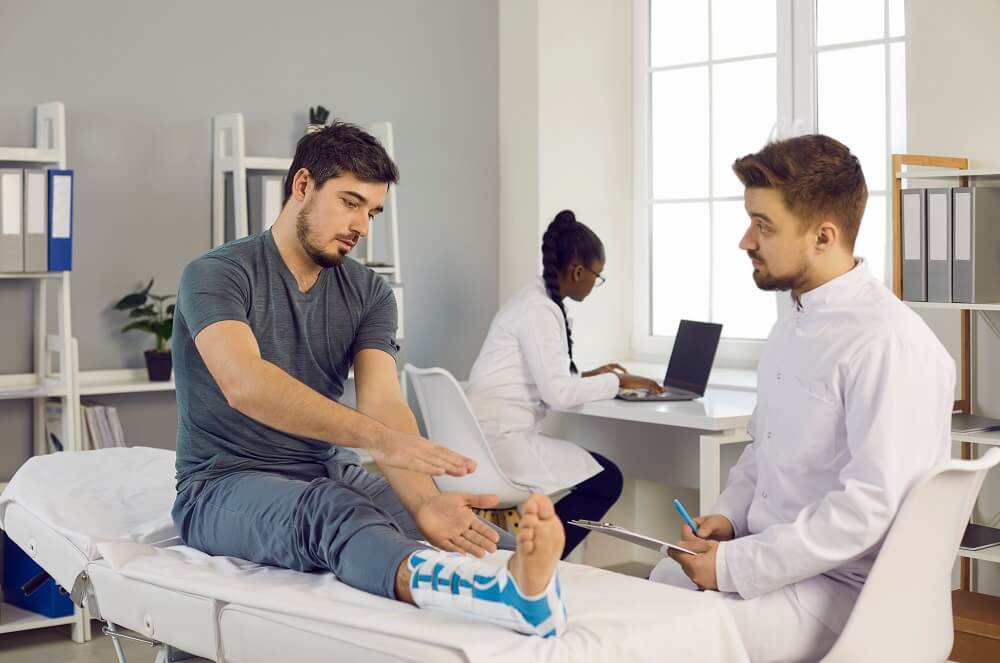 If you were injured or became ill on the job, you must see the medical provider your employer chooses if they offer one. After your initial visit, you can continue treatment with any doctor from a list approved by the state Workers' Compensation Commission. The list contains practitioners licensed to practice medicine, including surgeons, optometrists, podiatrists, physicians, and dentists in Connecticut. It's crucial to note that you could lose your right to workers' compensation benefits if you don't meet these requirements.
How Common Are Workplace Injuries?
According to the National Safety Council (NSC), an employee gets hurt on the job every seven seconds. That's equivalent to 510 injured workers an hour or 12,600 daily. The most common causes of workplace injuries that make employees miss time from work are overexertion, contact with objects and equipment, and slip-and-fall accidents.
In one recent year, 4,472 people died in workplace accidents nationwide – an increase of nine percent from the previous year. There were also 4.3 million work-related medically consulted injuries.
The NSC created a chart showing the number of preventable fatal work injuries in multiple job industries that year. Fatalities in each industry include:
Construction –946
Transportation and warehousing – 900
Agriculture, forestry, fishing, and hunting – 435
Manufacturing – 347
Not reported – 333
Government – 311
Professional and business services – 188
Other services (executive public administration) – 183
Retail trade – 164
Leisure and hospitality – 150
Wholesale trade – 150
Educational and health services – 132
Mining – 94
Financial activities – 72
Information – 35
Utilities – 32
Can I See a Doctor of My Choice After a Workplace Injury in Connecticut?
It depends. In most instances you can. Generally you would seek treatment from a doctor that is approved by your employer first, as typically the first report of injury is often followed by emergency medical treatment. In most circumstances you can choose a doctor of your choice.
What If I Live in Another State?
There are a few exceptions where an out-of-state employee who gets hurt while working in Connecticut can receive workers' compensation benefits. In these cases, an Administrative Law Judge may approve a physician in the state the employee lives in for their medical care.
When Is a Commission Medical Exam Necessary?
If contesting any part of your claimed injury, your employer might request an Employer/Respondent's Examination. The appointment is with a doctor they choose to determine the nature and severity of your job-related injury.
If that doctor offers an opinion that is different from your doctor, you might also have to attend a Commission Medical Exam. Typically, the Commissioner requests this type of examination. Both examinations are mandatory. If you refuse to participate, you risk losing benefits.
What Compensation Can I Receive Through a Workers' Compensation Claim in Connecticut?
Multiple types of workers' compensation benefits are available in Connecticut, including:
Medical benefits – Medical benefits cover expenses related to treating a work injury or disease. The payments you receive will depend on the Practitioner Fee Schedule established by the Chairman of the Workers' Compensation Commission. If you're under an approved medical plan, the cost of treatment under that plan will determine your benefit payments.
Temporary Total disability benefits – Wage replacement benefits start after the third day of disability. Payments are roughly 66% of average weekly gross wage during the 52 weeks before the job-related injury. They continue until you reach a point where you can return to work or maximum medical improvement (MMI).
Temporary Partial Incapacity benefits – If you are not totally disabled, and have a reduced or "light duty "work capacity, you would be eligible for wage replacement benefits if your employer cannot accommodate the return to work restrictions placed upon you by your doctor. If your employer can accommodate those restrictions, you would return to work and to regular pay status.
Wage differential benefits – If you return to work with your employer, but your pay is somehow reduced as a result of your job restrictions or light duty, you would be eligible for wage differential benefits. This benefit will cover the difference between your restricted duty pay and your compensation rate.
Permanent partial disability benefits – Permanent partial disability benefits compensate for the permanent loss of a body function or part from a workplace accident. The payment you receive is your weekly total disability benefit rate multiplied by the number of weeks allowed for the specific function or part.
Scarring and disfigurement benefits – You could collect scarring and disfigurement benefits if a workplace injury or related surgery causes permanent and significant scars on the face, head, neck, or part of the body that affects employability.
Death benefits – Death benefits are also available for the spouse of an employee who dies from a job-related injury or illness. Payments are the same as total disability benefits. An allowance of $12,000 for burial expenses is also available.
How Long Do I Have to File a Workers' Compensation Claim in Connecticut
You must file your workers' compensation claim within one year of the injury date or three years of the first sign of an occupational disease. If you have a claim for repetitive trauma, you must make your claim within one year of last symptoms of the injury.
Complete the Notice of Claim for Compensation form and make two copies. Send the original form to your employer by registered or certified mail with a request for a return receipt. One copy should go to the Workers' Compensation Commission District Office by registered or certified mail with a return receipt request. You can keep the other copy for your records.
What Should I Do After a Workplace Accident in Connecticut?
Taking immediate action is critical if you are injured or become ill on the job. You should take the following steps to protect your workers' compensation claim:
Report the injury or illness to your employer as soon as possible. This should be done via email or text message as well so as to document that you reported the injury.
Seek medical care with a doctor chosen by your employer.
Continue treatment with the designated doctor or a physician of your choice approved by the Commission.
File your workers' compensation claim.
Follow up with your employer's workers' compensation insurer if you don't receive payments within two weeks of the injury or illness.
Because this process can be unfamiliar and time-consuming, it is recommended that you hire an experienced workers' compensation lawyer to help you with your claim. Getting these benefits is essential, and you don't want to risk having your claim rejected due to an error in the application process. Contact an attorney to discuss how they could help you secure the benefits you need and deserve.
Contact a Connecticut Workplace Injury Lawyer
The workers' compensation lawyers of Jainchill & Beckert, LLC have decades of combined experience helping injured workers in our community. We provide our clients personalized attention and ongoing support while handling their workers' compensation claims. If you sustained an injury at work, we want to help. Call or contact us online for a free consultation today.