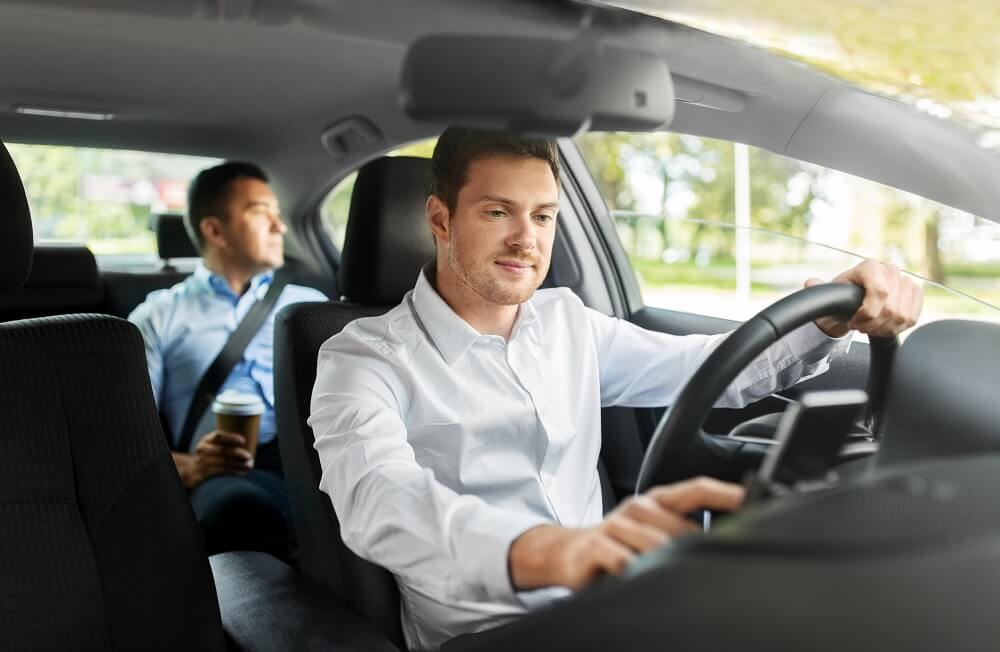 Rideshare services such as Uber have reshaped the way we access public transportation, making it easier to find a lift to the airport or go out for a night on the town. With many Uber drivers on the roads, accidents involving rideshare vehicles do happen regularly in Hartford.
If you were injured in a collision involving an Uber or Lyft driver, you may be dealing with painful injuries, medical bills, and other unanticipated expenses. You may have a right to demand compensation Fortunately, experienced guidance is available. A Hartford Lyft & Uber accident lawyer at Jainchill & Beckert, LLC, can help you understand your legal options to seek full compensation for the harm you have suffered in a rideshare collision. Contact us today for a free consultation.
Common Causes of Lyft & Uber Accidents
Uber drivers have the same responsibility to operate their vehicles safely and obey traffic laws as other drivers. Unfortunately, rideshare drivers sometimes get careless and fail to take reasonable safety precautions, causing collisions. The causes of rideshare accidents include:
Driving Distracted – Uber drivers have to monitor an app that tells them where passengers are and where to pick them up. They must follow directions on the app and prepare for the next passenger. These demands can take a driver's attention off the road and lead to a crash.
Navigating Unfamiliar Routes – Uber drivers may drive on unfamiliar roads to deliver a passenger to their destination, increasing the risk of driving errors such as turning the wrong way on a one-way street or running stop signs. These types of mistakes can cause accidents.
Fatigued Driving – Many rideshare drivers juggle several jobs and end up driving when dangerously fatigued. One-third of accidents involving a tired driver result in injuries, and 20 percent of fatal collisions are due to a tired driver.
Failing to Park or Pick Up Passengers Safely – Drivers unfamiliar with an area may suddenly stop in traffic to retrieve or deliver a passenger. Doing so can endanger passengers and other drivers and lead to collisions.
Speeding – A driver incentivized to pick up as many passengers as possible may speed to destinations to get more fares. The National Safety Council estimates that speed was a factor in 29 percent of fatal accidents in a recent year.
Poor Vehicle Maintenance – Driving for Uber puts more wear and tear on a car. Drivers may put off necessary maintenance and drive with worn brakes, fluid leaks, and overtaxed engines. Breakdowns on busy Hartford highways can cause accidents.
Inexperience – Uber's driver requirements aren't stringent. Drivers as young as 19 can work for Uber, a higher-risk category.
Does Uber Provide Insurance for Its Drivers?
Uber provides liability insurance to drivers whenever a driver's Uber app is switched on, and the driver is available to pick up a passenger. Uber provides $1 million of liability of coverage if the Uber driver is en route to pick up a passenger or is transporting a passenger.  If the driver is offline and not on the app, their personal insurance covers an accident.
The process of filing a claim against Uber's liability insurance is complicated. First, a person injured in a collision with a Uber driver must:
Report the accident to Uber: Uber can't get its insurance carrier involved unless they know about the accident. You can report the incident to them using their online form. But it's a good idea to speak first to a Hartford personal injury lawyer who handles Uber accident claims.
Establish that an Uber driver was at fault: You must establish the Uber driver was at fault before you can recover compensation for your injuries in the accident. Our experienced attorneys at Jainchill & Beckert know the types of evidence to seek to demonstrate that the Uber driver was at fault. We can help you pursue a claim.
Exhaust other insurance first: If the driver was logged into the app but did not have a passenger, the first step to recovery is to make a claim against the Uber driver's own auto liability insurance. Uber insurance kicks in if damages exceed the driver's limits.
The state of Connecticut requires rideshare drivers to carry liability insurance that recognizes the driver is driving the vehicle for commercial purposes and that provides specified levels of minimum liability coverage.
Does Uber Have a Screening Process for Its Drivers?
Yes. If a would-be driver meets the company's minimum requirements, Uber conducts a background check. This check includes a safety screening for impaired driving violations and violent offenses. The company also runs annual reviews to ensure the driver didn't commit any serious driving infractions or other offenses.
How Do You Establish Liability for a Lyft or Uber Accident?
Uber drivers can be liable – that is, financially responsible – to other drivers, passengers, pedestrians, and bicyclists if they cause an accident. Such accidents arise from negligence, a legal concept meaning that the Uber driver failed to act with the care that the driving situation required. If the Uber driver behaved negligently and caused an accident – for example, by disregarding a red light and speeding through an intersection – the driver may be held liable for the resulting accident losses.
Proving a violation of traffic safety laws is a common way to establish negligence. Speeding, running red lights or stop signs, failing to yield the right of way, or improper passing, are all examples of traffic violations and negligence. A Lyft & Uber accident lawyer can help.
You may be entitled to pursue compensation after a Lyft or Uber accident if you were injured and you were:
A paying passenger in an Uber vehicle
A driver or passenger in another vehicle was struck by an Uber driver who had their Uber app on or was transporting a passenger
A person on foot or a cyclist who was hit by an Uber driver who had their Uber app on or was transporting a passenger
A rideshare driver was injured in an accident caused by another driver.
What Compensation Can I Recover Through a Lyft or Uber Accident Lawsuit?
Compensation from an Uber accident may include:
Medical costs
Property damage
Wage loss
Diminished earning capacity
Pain and suffering
What Information Should I Collect at the Scene of an Uber Accident?
Documenting the accident is a crucial part of building a case for compensation. Ask for the driver's name, contact information, and insurance card. You should also take photos of the accident scene and any injuries.
See a doctor to diagnose and treat your injuries. Keep your follow-up appointments and follow through with any prescriptions. Record your experience and recovery in a written journal–not social media.
Keep receipts and records as you go. Don't forget the bills for any services you need while injured, such as housecleaning, landscaping, or childcare.
How Long Do I Have to File an Uber Accident Claim in Connecticut?
Connecticut law requires that you file a lawsuit for accident injuries within two years of the accident date. But first, you may need to submit an accident claim to the Uber driver's auto insurance, seeking payment of your medical expenses. An experienced attorney can guide you through the claims process and file them on your behalf.
Contact a Hartford Uber Accident Lawyer
Demanding the full compensation you deserve after an Uber accident can be challenging if you try to do it alone. You will have a better chance of being treated fairly if you have a strong advocate. The Hartford Uber accident lawyers at Jainchill & Beckert can handle your Uber accident injury claim on your behalf. Contact our Hartford personal injury attorney today for a free consultation to get started.